Access & Contact us
Directions
| | | |
| --- | --- | --- |
| The Artificial Intelligence Laboratory of University of Tsukuba is located at the central area of the Tsukuba campus on Kaede Street near the Third Area bus-stop. | | We are in the room CYB404 at the Bldg. Cybernics Research Building at the Third Area. Please call +81 29 853 6470 (Department Secretary) with any questions. |
Address
Artificial Intelligence Laboratory
University of Tsukuba
1-1-1 Tennodai
Tsukuba 305-8573, Japan

Laboratory
CYB404
(Cybernics Research Bldg.,
4th floor)
Tel. +81 29 853 5679
Fax. +81 29 853 5761


Office Room
CYB409
(Cybernics Research Bldg.,
4th floor)
Tel. +81 29 853 5761
Fax. +81 29 853 5761
Access to University of Tsukuba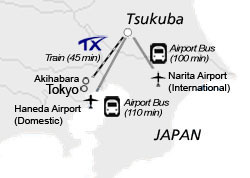 Bus: The Univ. Campus Bus (Clockwise bus) stops near the laboratory, please get off at the bus stop "Third Cluster of Colleges. ('Daisan Gakugun Tou Mae' in Japanese)" It costs 260 JPY (about 4km, 10 minutes). On one side of the street there is a pathway leading to large twin buildings (12 story buidings) which are known as Bldg. F. Go to the third floor at the south tower of Bldg. F (on your right), and then please walk South (the corridor on your front) to direction Bldg E.

You can finally find the room 3E304 which is the main room of our Laboratory. More detailed public transportation maps and schedules are available from the University of Tsukuba Web site.

Taxi: It is just 8 min and costs about 1,200 JPY from TX Tsukuba Station or Tsukuba Center Bus terminal to the entrance of Bldg. F of the Third Cluster of Colleges. Please follow the directions from the entrance of Bldg. F described as above.

From Tokyo Area to Tsukuba:
Train: [recommended] Take the Tsukuba Express (TX) to Tsukuba Station (cost is about 1,150JPY from Akihabara). It takes 45 minutes from Akihabara to Tsukuba.

Bus: From JR Tokyo Station, you can also take the Lomousine bus bound for Tsukuba Center Bus Terminal (cost is 1,100JPY from Tokyo Station). Under normal traffic conditions the bus ride will take about 70 -120 minutes (usually more than 120min weekdays).

Taxi: Taxi fare from the central Tokyo to Tsukuba is about 20,000 JPY. We do not recommend to come to Tsukuba by Taxi because traffic conditions in Tokyo are not well.
From Narita International Airport to Tsukuba:
Taxi: Taxi fare from the airport is about 18,000JPY - 20,000JPY. Under normal traffic conditions the taxi ride will take about 90 minutes.

Bus: [recommended] The easiest way to get to Tsukuba is to take the Airport Limousine Bus. You can take the airport limousine bus to the Tsukuba Center Bus terminal. Cost is about 2,000JPY. Under normal traffic conditions the bus ride will take about 90 minutes.

Parking Information:

Parking in the University of Tsukuba can not be difficult but a bit complicated. If you want to come to Lab by car, please contact us in advance. Parking is available for free in the guest parking area.

> Access to the University of Tsukuba: